THE ALPHA ASSOCIATION'S GRADUATE SCHOLARSHIP PROGRAM
2018 Scholarship Application
2017 Scholarship Recipients
Previous Scholarship Recipients
Since 1993, when Phi Beta Kappa, Alpha Association of Colorado, was created, we have awarded a total of $68,500 under our competitive scholarship program to help PBK initiates begin or continue graduate school. The purpose of the scholarships is to further the pursuit of knowledge and academic excellence.
Who May Apply: Any ΦΒΚ member or initiate who meets one of the following criteria:
has received, or will be receiving, an undergraduate degree from a Colorado university or college
has been accepted for, or is currently enrolled in, a graduate program at a Colorado university or college
is residing in Colorado at the time of application
is a current member of the Alpha Association of Colorado
How to Apply: Download the PBK Scholarship Application for 2018 and follow the instructions for submission.
All applications and supporting materials must be received by June 15, 2018. The awards will be announced no later than August 15, 2018.
Payment of Scholarship: Each award check will be sent to the college or university where the recipient is enrolled for his or her credit.
Taxation of the Award: Scholarships are tax free to the recipient only if he or she is a candidate for a degree and the funds are for tuition and fees required for enrollment or attendance at a qualifying educational institution. The scholarship will also be tax free if it covers fees, books, supplies, and equipment for courses at such an educational institution. The portion of any scholarship that covers associated expenses, such as room and board, travel, research, clerical help, and equipment, is not tax free. Recipients of taxable scholarships should report the taxable amount on their income tax returns, and they may have to pay estimated federal and state income taxes throughout the year.
If you have questions, please contact us at scholarship@pbkcolorado.org.
2017 Scholarship Recipients for the 2017-2018 Academic Year
TWO DU PBK INITIATES WIN 2017 SCHOLARSHIPS
he Alpha Association of Colorado is pleased to announce the 2017 winners of our two scholarships for graduate studies. Andrew Pham has been awarded the $3,500 scholarship, and Lauren Lustig the $1,500 scholarship. Both were initiated into the PBK Gamma Chapter at the University of Denver in their junior year. All of this year's applicants were well-qualified and had excellent credentials.
We are grateful to all Alpha Association members who have made donations to our Scholarship Fund this past year, making these awards possible. We also thank the Scholarship Committee members for their dedicated work in thoroughly reviewing the applications before choosing the two winners. The committee consisted of Barbara Berryman (Chair); Tom Hall; Rob Wellington; Jim Elkins, Ph.D.; Amy Rell, Ph.D.; and Christine Bliven, M.D. The PBK Alpha Association board approved the committee's recommendations.
Andrew Pham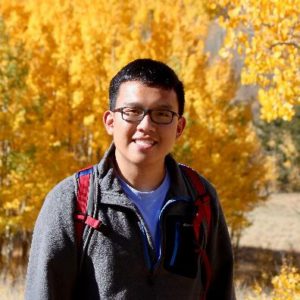 Andrew Pham graduated magna cum laude from DU in June 2017 with a double major in molecular biology (with University Distinction honors) and sociology. As an undergraduate, Andrew received a collaboration grant from the Boettcher Foundation to conduct research with the Pearson Lab at the Anschutz Medical Campus. Through his work in the lab, he was published as a collaborative author in the scientific journal Biology Open and found results that turned into his undergraduate thesis, "Does trisomy 21 cause a cilia defect?" He will be attending the University of Colorado School of Medicine in the fall.
In his application Andrew told us about himself (using the third person): "Growing up in Colorado, Andrew's sense of wonder was captivated by sunsets on the mountains, golden aspen leaves, and intricate snowflake patterns. During his time at the University of Denver, this insatiable curiosity was most visible in his choice of studies — a B.S. in molecular biology and a B.A. in sociology with minors in chemistry, mathematics, and leadership studies. Even more fundamental to Andrew's identity, though, is his Vietnamese heritage. As a first generation Vietnamese American, Andrew always ate dinner with his family, tended to his grandparents, and fulfilled his responsibilities as the oldest child. This upbringing instilled in him the importance of cultivating relationships. Thus, Andrew's aspiration to become a physician stems from an amalgamation between his scientific curiosity and a want to maintain relationships between people. Over the past few years, each of Andrew's pursuits — e.g. mentoring students as a Sunday school teacher, working with constituents through Senator Bennet's office, or culturing cells in the Pearson Lab — engaged him in these aspects of medicine."
Andrew also studied abroad in Glasgow, and he has played classical piano since he was four and a half years old. He tells us, "Through the years, this hobby and skill has instilled in me a sense of resilience, independence, and curiosity."
Lauren Lustig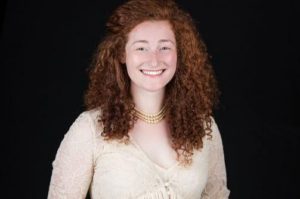 Lauren Lusting graduated summa cum laude from DU in June 2017 with a B.S. in chemistry with University Distinction honors. She will be attending the University of Colorado School of Dental Medicine in the fall.
Lauren has lived in Denver her entire life and was homeschooled for all 12 grades. Among her other awards, she was outstanding senior in chemistry. Lauren was a member of a DU organic chemistry lab, wrote a senior thesis based on her private research there, and was personally invited by the Senior Associate Dean for Research, Professor and Vice-Chair of the Department of Craniofacial Biology to become a member of the CU Dental School's lab, which focuses on polymeric biomaterials and polymer chemistry.
Lauren has a number of interests outside of academia. She has been riding horses since she was four years old and competed under the United States Eventing Association for ten years. She loves swing and blues dance, and she enjoys playing the piano and carillon. Lauren is also very involved in political activism, especially in the areas of environmental protection, animal rights, and education. She is a voracious reader and enjoys collecting antique books (particularly American works from 1870 to 1930).
Through the years she has produced some of her own literary work and hopes someday to publish her fiction. Lauren's writing sample submission for her scholarship application was an intriguing fictional short story entitled "Eli's Witness."
PREVIOUS SCHOLARSHIP RECIPIENTS
2016: Elliot Mamet and Angela Delano
2015: Kristina Barber and Pilar Ingle
2014: Taylor Sutcliffe and Emma Duffy
2013: Peter Heng
2012: Mariko Fujita
2011: James Hobbs
2010: Jacqueline Danzig
2009: Paul Gansky
2008: Jamie Justice
2007: Caroline B. Alden
2006: Lindsay VanGilder and Asuka Ishizaki