THE ALPHA ASSOCIATION'S GRADUATE SCHOLARSHIP PROGRAM
2017 Scholarship Application
2016 Scholarship Recipients
Previous Scholarship Recipients
Since 1993, when Phi Beta Kappa, Alpha Association of Colorado, was created, we have awarded a total of $63,500 under our competitive scholarship program to help PBK initiates begin or continue graduate school. The purpose of the scholarships is to further the pursuit of knowledge and academic excellence.
Who May Apply: Any ΦΒΚ member or initiate who meets one of the following criteria:
has received, or will be receiving, an undergraduate degree from a Colorado university or college
has been accepted for, or is currently enrolled in, a graduate program at a Colorado university or college
is residing in Colorado at the time of application
is a current member of the Alpha Association of Colorado
How to Apply: Download the PBK Scholarship Application for 2017 and follow the instructions for submission.
If you have questions, please contact us at scholarship@pbkcolorado.org.
2016 Scholarship Recipients for the 2016-2017 Academic Year
Alpha Association is pleased to announce the 2016 winners of our two scholarships for graduate studies given to PBK scholars continuing their education. Elliot Mamet from Colorado College will be receiving the $3,500 scholarship, and Angela Delano from the University of Colorado at Boulder will be receiving the $1,500 scholarship. Thanks to all Alpha Association members for your donations that make these awards possible and to the Scholarship Committee members for all their hard work. All the applicants were well-qualified and had excellent credentials, and the committee completed a thorough evaluation of all candidates and their submissions before choosing the two winners. The PBK Alpha Association board approved the recommendations. The committee consisted of: Barbara Berryman – Chair, Tom Hall, Rob Wellington, Amy Beth Rell, Ph.D., and Dr. Christine Bliven, M.D.
Elliot Mamet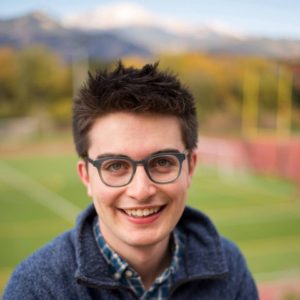 Elliot Mamet is a PhD student in political science at Duke University, studying political philosophy. He tells us, "Political philosophy asks what the good life is, or might be. This question is intellectually significant to me because it grounds the very foundations of political, and hence human, life. Whereas techno-scientific problems await human solutions, fundamental political questions can appear as insolvable as they did millennia ago." Elliot is a Denver native and Denver East High School alumnus. He received a B.A magna cum laude in political science from Colorado College, where he was a Boettcher Scholar, a finalist for the Rhodes Scholarship, and graduated Phi Beta Kappa. Elliot spent his junior year as a general course student at the London School of Economics and Political Science. Prior to beginning graduate school, Elliot completed a Humanity in Action fellowship in Warsaw, Poland, and worked for the American Political Science Association in Washington, D.C. Elliot has an interest in prisons, incarceration, and criminal justice policy. In pursuit of a more equitable criminal justice system and more humane prisons, he completed summer internships at the ACLU of Colorado, where he was a Public Interest Fellow, at the ACLU National Prison Project, in Washington, D.C., and in the Washington D.C., office of Congresswoman Diana DeGette. He also founded the Colorado College Prison Project, a student organization dedicated to fostering scholarly discourse and engaging in activism around the U.S. prison system. Elliot says, "After graduate school, my professional goal is to return to teach political science and political philosophy in a liberal arts college."
Angela Delano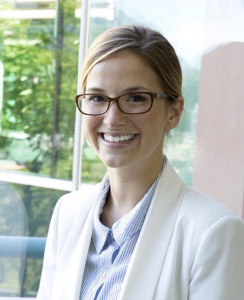 Angela Delano grew up two hours south of Boulder in Colorado Springs, Colorado. She graduated from CU Boulder in May 2015 with a degree in Molecular, Cellular, and Developmental Biology with Summa Cum Laude Honors. She will join the University of Illinois College of Medicine Class of 2020 in fall 2016. In addition to being invited to join Phi Beta Kappa, Angela received many other awards during her undergraduate academic years, including the Distinguished Graduate Award and the Outstanding Undergraduate Research Award. She was also selected as the MCDB Commencement Speaker 2015, a new honor given to the top MCDB student, to speak at the departmental graduation ceremony. Beyond classroom excellence, Angela tutored economically disadvantaged students through the Student Academic Success Center, worked as a teacher's assistant for Cell Biology lecture and lab, and volunteered at Planned Parenthood as a Health Center Assistant. She led CU Best Buddies, an international volunteer organization dedicated to establishing a global volunteer movement that creates opportunities for one-to-one friendships, integrated employment, and leadership for people with intellectual and developmental disabilities. Angela tells us, "My primary goal in life is to serve vulnerable populations. I believe that I can aid the community through healthcare, and I will be serving one of the most vulnerable populations I've encountered: patients. There is a very poignant vulnerability that accompanies illness. This medical education will prepare me to contribute to my community on such a fundamental basis, as I have learned that health is the one of the first steps to realizing one's fullest human potential…PBK has always promoted the integration of human arts and sciences for societal progress, and I stand to continue this mission by partnering with my peers and my patients in health and medical advancement."
PREVIOUS SCHOLARSHIP RECIPIENTS
2015: Kristina Barber and Pilar Ingle
2014: Taylor Sutcliffe and Emma Duffy
2013: Peter Heng
2012: Mariko Fujita
2011: James Hobbs
2010: Jacqueline Danzig
2009: Paul Gansky
2008: Jamie Justice
2007: Caroline B. Alden
2006: Lindsay VanGilder and Asuka Ishizaki