Annual Meeting, Lunch, and Speaker — Saturday, October 21, 2023, at the Denver Athletic Club
The Alpha Association's annual meeting and lunch will be Saturday, October 21, 2023, at the Denver Athletic Club, 1325 Glenarm Pl., Denver 80204.
A short business meeting to review the past year and to elect officers for the coming year will begin at 11:30 a.m. After lunch Alpha Association member Valerie Neal will begin her talk.
The lunch will be an Italian buffet and will cost $35. Parking for this event at Denver Athletic Club will be $7. As always, guests are welcome!
If you plan to attend, please return the reservation form along with a check for your lunch to the address on the form, or pay online through PayPal (treasurer@pbkcolorado.org). Reservations must be received by Monday, October 16, 2023. If you make a reservation but cannot attend, send an email to board@pbkcolorado.org to notify us. After October 16 we will not be able to refund the lunch cost because we are guaranteeing the number of guests.
---
"Perspectives on Women Astronauts" by Dr. Valerie Neal, Former Curator of Human Spaceflight, Smithsonian National Air and Space Museum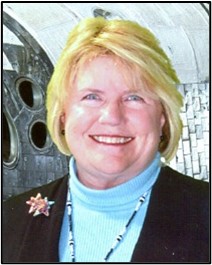 Through no fault of her own, Sally Ride's fame has eclipsed public awareness of other women in America's astronaut corps. Ineligible to become astronauts until 20 years after men were chosen for the job, women have lived and worked as equals in space during the past 45 years. Each one of them is quite accomplished and worthy of recog­ni­tion. Many have formidable resumes and have set records as the first or only women to achieve various pro­fessional milestones. They are engineers, scientists, pilots, military officers, and leaders. They are also wives, mothers, grandmothers, divorcees, widows, and singles. Unsurprisingly, they are highly motivated, intelligent, quick to learn, and driven to excel. Fifteen of them are members of Phi Beta Kappa or Sigma Xi. Gaining perspective on these women helps us understand how NASA and society have evolved since the Space Age began to the point that women's place is now in space.
Alpha Association member Valerie Neal, Ph.D., retired from the Smithsonian National Air and Space Museum after 30 years as a space history curator involved in research, writing, collecting artifacts, devel­oping exhibits and public programs, and public service. Her portfolio was human spaceflight in the Space Shuttle and International Space Station eras. Before that, she worked with NASA for 10 years as a writer and editor for space mission publications. She was inducted into Phi Beta Kappa in 1971, the year of the chapter's installation at Texas Christian University.
Proposed 2023–24 Board of Directors
The following members have agreed to run for the board of directors for this coming year:
President: Diane Palese
First Vice President: George Gramer, Jr.
Second Vice President: Barbara Berryman
Secretary: Kristin Adcock
Treasurer: Greg Sorensen
Ex officio Members: Ben Palen, Alana Horwitz, and Drew Voitiv
Nominations will also be taken from the floor.