Since 1993, when Phi Beta Kappa, Alpha Association of Colorado, was created, we have awarded a total of $84,500 under our competitive scholarship program to help PBK initiates begin or continue graduate school. The purpose of the scholarships is to further the pursuit of knowledge and academic excellence. In 2021 we will award one $3,000 scholarship and one $2,000 scholarship.
Who May Apply
Any ΦΒΚ member or initiate who meets one of the following criteria:
has received, or will be receiving, an undergraduate degree from a Colorado university or college
has been accepted for, or is currently enrolled in, a graduate program at a Colorado university or college
is residing in Colorado at the time of application
is a current member of the Alpha Association of Colorado
The application for the 2021-2022 graduate scholarship is now available (click here). All applications and supporting materials must be received by June 30, 2021. The awards will be announced no later than August 15, 2021.
Payment of Scholarship: Each award check will be sent to the college or university where the recipient is enrolled for his or her credit.
Taxation of the Award: Scholarships are tax free to the recipient only if he or she is a candidate for a degree and the funds are for tuition and fees required for enrollment or attendance at a qualifying educational institution. The scholarship will also be tax free if it covers fees, books, supplies, and equipment for courses at such an educational institution. The portion of any scholarship that covers associated expenses, such as room and board, travel, research, clerical help, and equipment, is not tax free. Recipients of taxable scholarships should report the taxable amount on their income tax returns, and they may have to pay estimated federal and state income taxes throughout the year.
If you have questions, please contact us at scholarship@pbkcolorado.org.
2020 Scholarship Recipients
First-Place Tie for 2020 Scholarships
The Alpha Association of Colorado is pleased to announce the 2020 winners of its two grad­uate study scholarships. For the first time the Scholarship Com­mittee selected two applicants who tied for first place — Verónica Gonzalez from the University of Colorado at Boulder, and Kaloyan Parvanov from Lake Forest College in Illinois. With the addition of an anony­mous, one-time donation, the commit­tee and the board of directors voted to award two scholarships of $3,000 each in lieu of a $3,500 scholarship and a $2,000 schol­arship.
Mr. Parvanov is an international student who lives in Germany, and due to circum­stances beyond his control, he has been forced to defer his doc­toral program in mathe­matics at CU Boulder until next year. Again, for the first time and in light of this year's un­prece­dented global circum­stances, the committee and the board of directors voted to waive the requirement that the scholar­ship be used during the year that it is granted. Mr. Parvanov's award will be held until he is able to begin his doctoral program in 2021.
Thank you to all Alpha As­soci­ation members for the donations that make these awards possible, and to the Scholarship Committee for their diligence in thoroughly evalu­ating the applications and choosing the winners.
The committee consisted of Barbara Berryman (chair), Tom Hall, Rob Wellington, Amy Rell, Jim Elkins, Julie DeWoody, and our newest member, Kate Silz-Carson.
Since 1994 the Alpha Associa­tion has awarded $84,500 in scholarships.
Verónica Gonazalez
Verónica Gonzalez is a Latina dual citizen of Ecuador and the United States. She grew up bilingual and bicul­tural in the Denver Metro area, with regular trips to her family's hometown of Cuenca, Ecuador. After graduating magna cum laude from CU Boulder, with a double major in mathematics and Spanish, Verónica also earned her master's degree in educa­tional equity and cultural diversity at CU. During her studies in her master's program, and while teaching in bilingual ele­men­tary and secondary classrooms, Verónica found her passion for civil rights and felt a growing desire to pursue law in order to positively impact education and society. She will be a first-year law student at the University of Colorado in the 2020–21 school year.
Verónica is a member of the NAACP Boulder Branch and has become active in the Black Lives Matter movement after the tragic death of George Floyd. In addi­tion to activism and working as a paralegal at a personal injury firm, Verónica enjoys running, playing hockey, and skating in the professional ice crew of the AHL's Colorado Eagles.
Kal Parvanov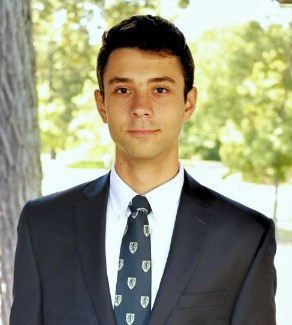 Born in Montana, Bulgaria, Kal Parva­nov gradu­ated summa cum laude from Lake Forest College in May 2020 with a BA in mathematics and eco­nomics. While at Lake Forest Kal helped establish the Mathe­ma­tics Student Ad­visory Com­mit­tee, which focused on providing vital student feedback about the department's hiring initiatives and curriculum changes. Kal also served as a portfolio mana­ger for the Lake Forest College Investment Club, where he was a part of a team responsible for managing the club's virtual stock portfolio and generating reports and analyses on poten­tial investments.
Kal started the Quanti­tative Finance Club at Lake Forest College, helping promote a data-scientific and statistical ap­proach to trading in line with current trends in the indus­try. Kal has been accepted to the applied mathe­matics doctoral program at CU Boulder, where he intends to study stochastic processes, partial differential equations (PDEs), and proba­bility starting in the fall of 2021.
Previous Scholarship Recipients
2019: Emma Whitehead and Jedediah Doane
2018: Jenny Wool and Tyler Irani
2017: Andrew Pham and Lauren Lustig
2016: Elliot Mamet and Angela Delano
2015: Kristina Barber and Pilar Ingle
2014: Taylor Sutcliffe and Emma Duffy
2013: Peter Heng
2012: Mariko Fujita
2011: James Hobbs
2010: Jacqueline Danzig
2009: Paul Gansky
2008: Jamie Justice
2007: Caroline B. Alden
2006: Lindsay VanGilder and Asuka Ishizaki