THE ALPHA ASSOCIATION'S GRADUATE SCHOLARSHIP PROGRAM
2019 Scholarship Application
2018 Scholarship Recipients
Previous Scholarship Recipients
Since 1993, when Phi Beta Kappa, Alpha Association of Colorado, was created, we have awarded a total of $68,500 under our competitive scholarship program to help PBK initiates begin or continue graduate school. The purpose of the scholarships is to further the pursuit of knowledge and academic excellence.
Who May Apply: Any ΦΒΚ member or initiate who meets one of the following criteria:
has received, or will be receiving, an undergraduate degree from a Colorado university or college
has been accepted for, or is currently enrolled in, a graduate program at a Colorado university or college
is residing in Colorado at the time of application
is a current member of the Alpha Association of Colorado
How to Apply: Download the PBK Scholarship Application for 2019 and follow the instructions for submission.
All applications and supporting materials must be received by June 15, 2019. The awards will be announced no later than August 15, 2019.
Payment of Scholarship: Each award check will be sent to the college or university where the recipient is enrolled for his or her credit.
Taxation of the Award: Scholarships are tax free to the recipient only if he or she is a candidate for a degree and the funds are for tuition and fees required for enrollment or attendance at a qualifying educational institution. The scholarship will also be tax free if it covers fees, books, supplies, and equipment for courses at such an educational institution. The portion of any scholarship that covers associated expenses, such as room and board, travel, research, clerical help, and equipment, is not tax free. Recipients of taxable scholarships should report the taxable amount on their income tax returns, and they may have to pay estimated federal and state income taxes throughout the year.
If you have questions, please contact us at scholarship@pbkcolorado.org.
2018 Scholarship Recipients for the 2018-2019 Academic Year
ALPHA ASSOCIATION AWARDS TWO SCHOLARSHIPS TOTALING $5,000 TO PBK GRADUATE STUDENTS
The Alpha Association of Colorado is pleased to announce the 2018 winners of our two scholarships for graduate studies. Jenny Wool, graduate of Colorado College, has been awarded the $3,500 scholarship, and Tyler Irani, graduate of the University of Denver, the $1,500 scholarship. This year's 11 applicants were all well-qualified and had excellent credentials.
We are grateful to all Alpha Association members who have made donations to our Scholarship Fund this past year, making these awards possible. We also thank the Scholarship Committee members for their dedicated work in thoroughly reviewing the applications before choosing the two winners. The committee consisted of Barbara Berryman (Chair); Tom Hall; Rob Wellington; Jim Elkins, Ph.D.; Amy Rell, Ph.D.; and Julie DeWoody. The Alpha Association board approved the recommendations.
Since 1994 the Alpha Association has awarded $73,500 in scholarships.
CC Graduate Jenny Wool
Jenny Wool grew up in Montgomery, Alabama, and received a B.A. magna cum laude in psychology from Colorado College in 2014. While in college, Jenny was an active member of the Outdoor Recreation Club, leading three new student orientation trips and a two-week course to train future club leaders. Jenny also worked on campus as both a tour guide and a peer tutor in the writing center. Following graduation, she spent a year working for CC's Psychology and Neuroscience Departments as a teaching and research assistant. For the last three years Jenny has worked in Denver's public education sector for DSST Public Schools. When not working, she enjoys reading, hiking, and running.
This fall she will begin graduate studies at the University of Washington's School of Public Health. Jenny's goal is to conduct inter-disciplinary research on health disparities to inform public understanding of why marginalized groups often have poorer health outcomes than the rest of the population.
DU Graduate Tyler Irani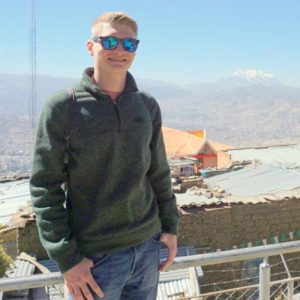 Born in Colorado Springs, Tyler Irani graduated summa cum laude from the University of Denver in 2016, with majors in biological sciences (with university honors distinction) and psychology, and minors in chemistry and medical physics, with a concentration in cognitive neuroscience. During his time at DU, Tyler performed research with his advisor, Dr. Alysia Vrailas-Mortimer, investigating neurodegenerative diseases like Alzheimer's and Parkinson's by way of the fruit fly. Tyler wrote a thesis on his work in Dr. Mortimer's lab, discussing the results of a drug screen he performed on fly models of Parkinson's disease.
Tyler participated in various extracurricular activities, including being a leader in his fraternity, Zeta Beta Tau, and working as a youth soccer coach. In the two years since his graduation, Tyler has worked as an emergency department scribe and later as a clinical research coordinator with the Colorado Neurological Institute.
He will begin his first year at the University of California, Irvine School of Medicine this fall.
PREVIOUS SCHOLARSHIP RECIPIENTS
2017: Andrew Pham and Lauren Lustig
2016: Elliot Mamet and Angela Delano
2015: Kristina Barber and Pilar Ingle
2014: Taylor Sutcliffe and Emma Duffy
2013: Peter Heng
2012: Mariko Fujita
2011: James Hobbs
2010: Jacqueline Danzig
2009: Paul Gansky
2008: Jamie Justice
2007: Caroline B. Alden
2006: Lindsay VanGilder and Asuka Ishizaki