Since 1993, when Phi Beta Kappa, Alpha Association of Colorado, was created, we have awarded a total of $89,500 under our competitive scholarship program to help PBK initiates begin or continue graduate school. The purpose of the scholarships is to further the pursuit of knowledge and academic excellence. The amount of the 2022 awards will be decided in January 2022.
Who May Apply
Any ΦΒΚ member or initiate who meets one of the following criteria:
has received, or will be receiving, an undergraduate degree from a Colorado university or college
has been accepted for, or is currently enrolled in, a graduate program at a Colorado university or college
is residing in Colorado at the time of application
is a current member of the Alpha Association of Colorado
The application for the 2022-2023 graduate scholarship are now available as either an MS Word file or a PDF file.
Payment of Scholarship: Each award check will be sent to the college or university where the recipient is enrolled for his or her credit.
Taxation of the Award: Scholarships are tax free to the recipient only if he or she is a candidate for a degree and the funds are for tuition and fees required for enrollment or attendance at an accredited college or university in the United States. The scholarship will also be tax free if it covers fees, books, supplies, and equipment for courses at such an educational institution. The portion of any scholarship that covers associated expenses, such as room and board, travel, research, clerical help, and equipment, is not tax free. Recipients of taxable scholarships should report the taxable amount on their income tax returns, and they may have to pay estimated federal and state income taxes throughout the year.
If you have questions, please contact us at scholarship@pbkcolorado.org.
2021 Scholarship Recipients
Alpha Association Announces 2021 Scholarship Winners
The Alpha Association is pleased to announce the 2021 winners of our two scholarships for graduate stud­ies. Joey Glick from Colo­rado College will receive the $3,000 scholar­ship, and Renée Blevins from the University of Colorado at Boulder will receive the $2,000 scholarship.
Thanks to all Alpha Association members for your donations that make these awards possible and to the Scholarship Committee for their hard work. The applicants had excel­lent credentials, and the committee com­pleted a thorough evaluation before choosing the two winners. The Alpha Association board approved the recommen­dations.
Committee members were Barbara Berryman (Chair), Tom Hall, Amy Rell, Jim Elkins, Julie DeWoody, and Kate Silz-Carson.
Joey Glick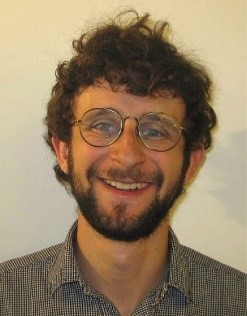 Joey Glick, a proud native of Pittsburgh, Pennsylvania, is a 2011 alum of Colo­rado College with a major in an­thropology and an MA from the Graduate Theolog­ical Union in Berkeley, California. He is currently a student at Hebrew College in Newton Cen­tre, Mas­sa­chusetts, in his last year of study pursuing Rabbinic Ordi­nation and an MA in Jewish Studies.
Before starting at Hebrew College, Joey worked as the interim assistant chaplain and director of Jewish life at Vassar College. As a rabbinical student, Joey has served small communi­ties in the Adirondacks, the Green Mountains, and on the Maine coast. Joey is passionate about inter-religious dialogue, old time fiddle music, and his hometown Pittsburgh Pirates.
Renée Blevins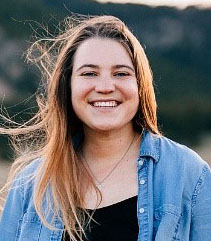 Originally from Mem­phis, Tennes­see, Renée Blevins grad­uated from the University of Colorado Boulder in 2017. She credits her education at CU for allowing her to explore a wide range of activities, academic sub­jects, and outdoor endeavors. She double majored in Spanish language / literature and psychol­ogy, was a member of CU's National Champion Tri­athlon team, worked as a student ambassador, served as vice president of her sorority, and was involved in campus ministry. As a Norlin scholar, she participated in the SUEP Research Confer­ence by presenting her work on campus and in the community with The Body Project, a cognitive dissonance based eating disorder prevention program. She is currently working towards her MA in Clinical Mental Health Counseling at the University of Tennessee at Chattanooga.
Since graduating from CU, Renée has worked to integrate her love for the outdoors with her passion for mental health. This summer, she has been taking classes online while serving as a programming director for a Catholic high adventure sum­mer camp in Jamestown, Colorado. She expects to graduate in May 2022. Upon graduating, she hopes to be able to work with both English and Spanish speaking clients in settings that help them heal and grow. In her free time, she loves to hike, rock climb, read, and cheer on the Buffs!
Previous Scholarship Recipients
2020: Verónica Gonzalez and Kal Parvanov (tie)
2019: Emma Whitehead and Jedediah Doane
2018: Jenny Wool and Tyler Irani
2017: Andrew Pham and Lauren Lustig
2016: Elliot Mamet and Angela Delano
2015: Kristina Barber and Pilar Ingle
2014: Taylor Sutcliffe and Emma Duffy
2013: Peter Heng
2012: Mariko Fujita
2011: James Hobbs
2010: Jacqueline Danzig
2009: Paul Gansky
2008: Jamie Justice
2007: Caroline B. Alden
2006: Lindsay VanGilder and Asuka Ishizaki