Since 1993, when Phi Beta Kappa, Alpha Association of Colorado, was created, we have awarded a total of $78,500 under our competitive scholarship program to help PBK initiates begin or continue graduate school. The purpose of the scholarships is to further the pursuit of knowledge and academic excellence.
Who May Apply
Any ΦΒΚ member or initiate who meets one of the following criteria:
has received, or will be receiving, an undergraduate degree from a Colorado university or college
has been accepted for, or is currently enrolled in, a graduate program at a Colorado university or college
is residing in Colorado at the time of application
is a current member of the Alpha Association of Colorado
All applications and supporting materials must be received by June 15, 2020. The awards will be announced no later than August 15, 2020.
Payment of Scholarship: Each award check will be sent to the college or university where the recipient is enrolled for his or her credit.
Taxation of the Award: Scholarships are tax free to the recipient only if he or she is a candidate for a degree and the funds are for tuition and fees required for enrollment or attendance at a qualifying educational institution. The scholarship will also be tax free if it covers fees, books, supplies, and equipment for courses at such an educational institution. The portion of any scholarship that covers associated expenses, such as room and board, travel, research, clerical help, and equipment, is not tax free. Recipients of taxable scholarships should report the taxable amount on their income tax returns, and they may have to pay estimated federal and state income taxes throughout the year.
If you have questions, please contact us at scholarship@pbkcolorado.org.
2019 Scholarship Recipients for the 2019-2020 Academic Year
TWO CC GRADS WIN 2019 SCHOLARSHIPS
The Alpha Association of Colorado is pleased to announce the 2019 winners of our two scholar-ships for graduate studies. Emma Whitehead, a 2016 graduate of Colorado College, was awarded the $3,500 scholarship, and Jedediah Doane, a 2014 graduate of Colorado College, the $1,500 scholarship. This year seven PBK initiates applied for the scholarships; all were well-qualified and had excellent credentials.
The requirements to apply for the scholarships were changed this year. Instead of answering four questions and submitting a writing sample completed for their undergraduate work, we asked applicants to send us a personal essay describing how their undergraduate education and experiences "challenged them, changed them, added value to their lives, shaped their goals and passions, and provided them with tools for their future success." The committee felt this new application improved both the submission and evaluation processes.
We are grateful to all Alpha Association members who have made donations to our Scholarship Fund this past year, making these awards possible. We also thank the Scholarship Committee members for their dedicated work in reviewing the applications. The committee consisted of Barbara Berryman (Chair); Tom Hall; Rob Wellington; Jim Elkins, Ph.D.; Amy Rell, Ph.D.; and Julie DeWoody. The PBK Alpha Association board approved the committee's recommendations.
Since 1994 the Alpha Association has awarded $78,500 in scholarships.
Emma Whitehead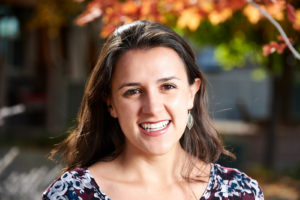 Born in Denver, Emma Whitehead graduated cum laude from Colorado College with a degree in Political Science. During her undergraduate studies, Emma was twice awarded grants to conduct original research on identity and governance in Spain, Belgium, Switzerland, and Eastern Europe. She was involved in outdoor recreation and the arts, as well as holding positions in the Admissions and Financial Aid Offices.
For the past three years, Emma has worked to blend psychology, politics, and leadership development in her work and volunteer activities. After working with the Center for Creative Leadership, she went on to provide pro bono legal interpretation and mentorship to new Americans navigating the college application process. Emma is also a graduate of Emerge Colorado, which trains women to run for public office. She is currently part of a documentary film team that leverages the power of storytelling to educate and inspire action on topics including wilderness conservation, mass incarceration, and the global refugee crisis. In her spare time, she enjoys rock climbing, cooking, and salsa dancing.
Emma will attend the London School of Economics, pursuing an MSc in Organizational and Social Psychology.
Jedediah Doane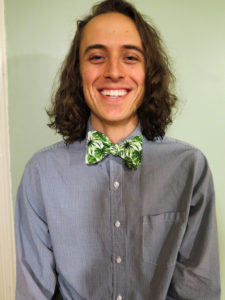 Jed Doane grew up in Salt Lake City and graduated from Colorado College with distinction in Biology: Organisms, Ecology, and Evolution, magna cum laude. A finalist for the Thomas J. Watson Fellowship, his interests at CC ranged from fire ecology to biochemistry to jazz. He led backcountry orientation trips in the Front Range and served on the college's Sustainability Action Committee. He is currently a fourth-year medical student at the University of Utah's School of Medicine, where he remains active in research and the exploration of wild places. His research interests include the integration of technology in low-resource healthcare data collection. He is pursuing a career in internal medicine.
In his personal essay Jed wrote, "An education with ample exposure to the liberal arts and sciences has made me a better future physician, student, and citizen of the world."
Previous Scholarship Recipients
2018: Jenny Wool and Tyler Irani
2017: Andrew Pham and Lauren Lustig
2016: Elliot Mamet and Angela Delano
2015: Kristina Barber and Pilar Ingle
2014: Taylor Sutcliffe and Emma Duffy
2013: Peter Heng
2012: Mariko Fujita
2011: James Hobbs
2010: Jacqueline Danzig
2009: Paul Gansky
2008: Jamie Justice
2007: Caroline B. Alden
2006: Lindsay VanGilder and Asuka Ishizaki