Since 1993, when Phi Beta Kappa, Alpha Association of Colorado, was created, we have awarded a total of $94,500 under our competitive scholarship program to help PBK initiates begin or continue graduate school. The purpose of the scholarships is to further the pursuit of knowledge and academic excellence. The 2023 awards will offer two scholarships — one for $3,500 and one for $2,000.
Who May Apply
Any ΦΒΚ member or initiate who meets one of the following criteria:
has received, or will be receiving, an undergraduate degree from a Colorado university or college
has been accepted for, or is currently enrolled in, a graduate program at a Colorado university or college
is residing in Colorado at the time of application
is a current member of the Alpha Association of Colorado
Download the 2023 graduate scholarship application. Submit your application and supporting materials by June 30, 2023, to scholarship@pbkcolorado.org. Awards will be announced by August 15, 2023.
Payment of Scholarship: Each award check will be sent to the college or university where the recipient is enrolled for his or her credit.
Taxation of the Award: Scholarships are tax free to the recipient only if he or she is a candidate for a degree and the funds are for tuition and fees required for enrollment or attendance at an accredited college or university in the United States. The scholarship will also be tax free if it covers fees, books, supplies, and equipment for courses at such an educational institution. The portion of any scholarship that covers associated expenses, such as room and board, travel, research, clerical help, and equipment, is not tax free. Recipients of taxable scholarships should report the taxable amount on their income tax returns, and they may have to pay estimated federal and state income taxes throughout the year.
If you have questions, please contact us at scholarship@pbkcolorado.org.
2022 Scholarship Recipients
Alpha Association Announces 2022 Scholarship Winners
The Alpha Association of Colo­rado is pleased to announce the 2022 winners of our two scholar­ships for graduate studies. Alana Horwitz from the University of Colorado Boulder has been awarded the $3,000 scholarship, and Andrew (Drew) Voitiv from the University of Denver, the $2,000 scholarship.
Thanks to all Alpha Association members for your donations that make these awards possible and to the Scholarship Committee for all their hard work. The applicants had excellent credentials, and the committee thoroughly evaluated the applications before choosing the two winners. The PBK Alpha Association board approved the recommendations.
Committee members were Barbara Berry­man (Chair), Julie DeWoody, Jim Elkins, Tom Hall, Amy Rell, and Kate Silz-Carson.
Alana Horwitz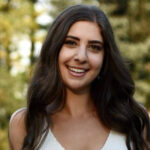 Alana Horwitz graduated from the University of Colorado Boulder with a double major in political science and ethnic studies.
Throughout Alana's college career, she took part in multiple extra-curricular activi­ties and was an avid volunteer in her community, while also working part-time to put herself through college. Alana spent a semester abroad in Seville, Spain, where she took classes at a local university and volun­teered teaching English. Additionally, Alana par­tici­pated in the CU in D.C. pro­gram, where she spent a semester interning in the director's office of the U.S. Peace Corps in Washing­ton, D.C., and continued taking classes with CU professors in the nation's capital.
During college, Alana spent three years conducting research on the academic achievement gap for her honors thesis. Her research found that academic achievement stems from a stu­dent's family income and the quality of the high school, with an indirect correlation to race. Alana's research contributed to her graduating summa cum laude and being chosen as the "Outstanding Graduate" of the College of Arts and Sciences. Alana's research encouraged her to enlist in Ameri­Corps, spending a year volunteering full-time as a high school gradua­tion coach at a Title I school in South Florida. She served as a tutor/mentor for students who were not on track to graduate. This fall, Alana begins her first year at the University of Virginia's Law School, with an ultimate goal of practicing education law.
Drew Voitiv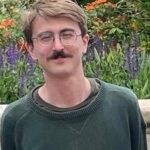 Drew Voitiv grew up in Springfield, Missouri, before leaving for Colorado to earn a B.S. in Physics from the Univer­sity of Denver in 2019. Drew joined the Siemens Lab at DU in the first week of his first year as an under­grad­uate, which led to his affinity for physics and research. His role evolved from doing odd jobs around the labs to developing how to pre­cisely generate, control, and mea­sure "twisted" laser beams. The deceptively simple setting has turned out to be an endless fountain of challenging problems, and in 2020 he became a Ph.D. student in Physics at DU to continue and expand this work.
Outside of physics, Drew sings in the DU Men's Choir, occasionally dances swing and tango, and fre­quently takes pleasant walks.
Previous Scholarship Recipients
2021: Joey Glick and Renée Blevins
2020: Verónica Gonzalez and Kal Parvanov (tie)
2019: Emma Whitehead and Jedediah Doane
2018: Jenny Wool and Tyler Irani
2017: Andrew Pham and Lauren Lustig
2016: Elliot Mamet and Angela Delano
2015: Kristina Barber and Pilar Ingle
2014: Taylor Sutcliffe and Emma Duffy